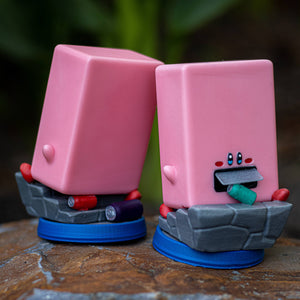 ToyHuntersShop
Soda Kirby Custom Amiibo
Regular price
$45.00
$0.00
Unit price
per
Kirby Mouthful Mode "Soda Machine", in all his Amiibo glory! This is a thing of beauty and is one of my most detailed Custom Amiibos to date! Every detail is is painted in by hand or with an airbrush. This is a finished 3d print like you have never seen before!

This Custom Amiibo is 3D printed in resin, in 4K details. It is hand finished. It also has chip installed in it that you can program to scan as anything you want! This can be done easily with most cell phones. I cannot program them for you. See FAQ section of my website for a link to tutorials on what is needed.

This product is made to order, and generally ships within 5-30 business days. This is all dependent on material supply and demand! If you order it, please be patient. It WILL arrive and WILL be worth the wait. I do not ship any figure that does not meet the standards that I would allow into my own collection. There may be some minor marks on the back that are not avoidable due to the printing process. These flaws are sanded to be as minimal as possible! If you have any questions, please reach out to me via the chat on my website, Instagram, or eBay messages.

THIS PRODUCT IS MADE OF RESIN. IT IS A BIT FRAGILE. I do the best that I can to package these for shipment. If you receive one that has been damaged during shipping, please reach out to me here, or on Instagram ( @toy.hunters.collecting ). I will replace it at no additional cost to you, IMMEDIATELY. PLEASE OPEN WITH CARE. DO NOT RIP THE BUBBLE WRAP OFF. CUT IT OPEN WITH SCISSORS OR PEEL THE TAPE OFF TO AVOID DAMAGING THE FIGURE.
---