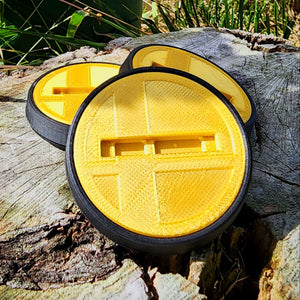 ToyHuntersShop
Mr. Game and Watch Amiibo Extra Bases
Regular price
$30.00
$0.00
Unit price
per
Introducing our Mr. Game and Watch Amiibo Extra Bases – the perfect solution for showcasing your beloved Amiibo figures in style. Designed exclusively for collectors and enthusiasts, these extra bases provide a secure and visually appealing way to display your Mr. Game and Watch Amiibo figures. Three (3) bases are included.

Crafted with precision using advanced 3D printing technology, these bases are meticulously replicated to mimic the design of the original Amiibo bases. Despite their non-functional nature, these bases serve a crucial purpose – they elegantly cradle your figures, allowing you to exhibit your collection with pride. Each base is created with utmost attention to detail, capturing the essence of the iconic Mr. Game and Watch characters.
Made from high-quality, durable materials, these extra bases are built to last, ensuring the safety of your valuable Amiibo figures. The smooth finish and sleek design add a touch of sophistication to your display, enhancing the overall aesthetic appeal of your collection.
Whether you're a dedicated collector, a passionate gamer, or someone looking to add a unique touch to their gaming setup, these Mr. Game and Watch Amiibo Extra Bases are the ideal choice. Easy to use and designed for convenience, they allow you to arrange your figures creatively, transforming your space into a showcase of gaming nostalgia.
Bring your Amiibo collection to life and showcase your Mr. Game and Watch figures the way they deserve to be displayed. Elevate your gaming experience with these meticulously crafted, 3D printed extra bases – the ultimate solution for displaying your Amiibo figures in all their glory. Upgrade your collection today and let your love for gaming shine!
---